Ladies! I'm currently looking to fill my June calendar with pop-up shops. If you're unfamiliar with a pop-up shop, that's okay. This post is going to walk you through both kinds of pop-up shops:
in person
and
virtual
.
In-Person Pop-Ups
If you are local to the New England area, you're eligible to host an in-person pop-up with me! Together, we plan and host a themed (or un-themed) get together with as many as your friends as you'd like. We work together to create and send out invitations, and I will be in charge of bringing along a table full of samples, lookbooks, order forms, light snacks and beverages, decorations, and games. The entire party is customized exactly how you want, it can be as casual as you'd like - and you can have as little or as much involvement in the planning as you would like. You can have a pop-up with as little as 2-3 guests, and I recommend capping the attendance at 20 to ensure everybody gets the individualized attention they deserve.
Online Pop-Ups
Want to earn the hostess rewards but don't have the time to commit to a pop-up, or too far away? No problem. Online pop-ups are great! They are more flexible in regards to time, and can reach a large network of people all at once. Everyone invited to your online pop-up shop (either through an e-vite, a blog post, or a Facebook page... or all three) checks out with your specific pop-up shop, and the rewards are credited to you soon after.
I still have some questions...
What do I have to do?
As I mentioned before, your involvement can be as little or as much as you would like. At the very least, you will need to invite your network and do a little bit of simple marketing, that I will walk you through. Just remember - the more active you are, the more successful your shop will be, and the more rewards you'll earn!
What do you do to make sure the shop is successful?
Whether the shop is in-person or online, I'm behind the scenes arming you with a variety of posts, images, and sending out styling suggestions to your guests. I'm ensuring all the orders are credited to the account, and that everything arrives in a timely manner and that everybody is thrilled with their purchases. (And of course, if the pop-up is in person... the clean up!)
Okay... what are the hostess perks you keep talking about?
Chloe + Isabel has an amazing hostess perks package. And each month there is an additional incentive to sweeten the deal. Pop-up shops hosted during any given month will receive:
$50
credit when your shop's sales reach $200
$100
credit when your shop's sales reach $400
$150
credit when your shop's sales reach $600
$200
credit when your shop's sales reach $800
...and so on!
The Hostess Hoops
in gold or silver when your shop's sales reach $400
And this month's special incentive is...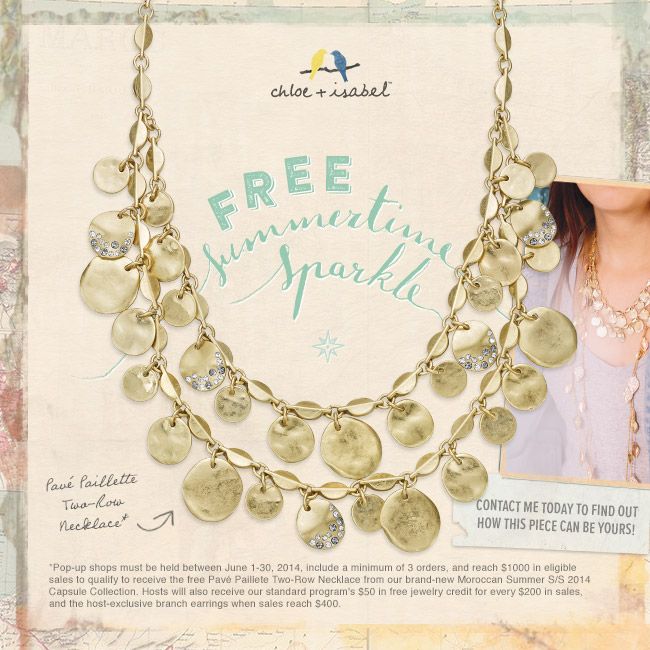 You can earn the
Pave Paliette Two-Row Necklace, $250 in jewelry credit, and the host-exclusive branch earrings
for free when your pop-up shop is held between June 1 and June 30, has at least 3 orders, and reaches a total of $1000 in sales.
If you missed my overview of the
Moroccan Summer launch that I did yesterday
, you may want to go back and check out some of the incredible pieces that we are offering this summer. Or, go ahead
right to my boutique
and start getting your wishlist ready.
Why Chloe + Isabel?
Because quality is a beautiful thing.
We stand by every item we sell. Everything purchased through me will come with a lifetime replacement guarantee. If it ever breaks, or becomes too well-worn, we will replace it for you or issue you a credit. Others can attest to this, too! We've been featured in Vogue, Glamour, Lucky, TechCrunch... and did you know -
Ashton Kutcher is one of our favorite investors
?
I'd be happy to answer any other questions you might have. Feel free to leave them in the comments, or email me at dontpanicdeannablog[at]gmail.com. And always
check out my boutique
for the latest styles and trends!