At the time of writing this, Amanda Palmer is probably editing her book in a quaint coffee shop in or around Boston. For those familiar with her work, I have no doubt that you have a clear stance on who she is and what she does: you either love her or hate her. Those on the fence, or unfortunately unfamiliar with her work, I'm about to do my damn best to persuade you to love her as I do.
Amanda is known to wear many hats. She was most notably one-half of the punk-cabaret duo The Dresden Dolls. She's additionally had a successful solo career, worked as one-half of Evelyn Evelyn, and most recently the lead singer of Amanda Palmer and the Grand Theft Orchestra. She's married to author Neil Gaiman, and known for having an intimate one-on-one connection with her fans through
social media
. Oh, she is also cited as changing the landscape of the music industry by
funding one of the most successful kickstarters... ever
. Sounds pretty good, right? Successful? Definitely.
I'm sure it comes as no surprise that with success comes a great deal of resistance and controversy. And Amanda is surely no exception to the rule.
Roadrunner Records "Rebellyon:"
Following the release of the music video for
Leeds United
, Amanda mentioned in her blog that her record labal, Roadrunner, wanted to pull certain scenes because she looked fat. Being an advocate for self-love (and generally just knowing she looked great in that bra & blazer combo) Amanda refused to compromise. Her fans reacted by uploading photos of their bellies with encouraging lyrics and quotes onto the internet directed at Roadrunner; and even later compiled a book. Shortly after this, Amanda recorded and uploaded a song entitled "
Please Drop Me
," urging Roadrunner to drop her from their label. After many legal battles, Amanda eventually won and was free from a record label and posted this photo in celebration: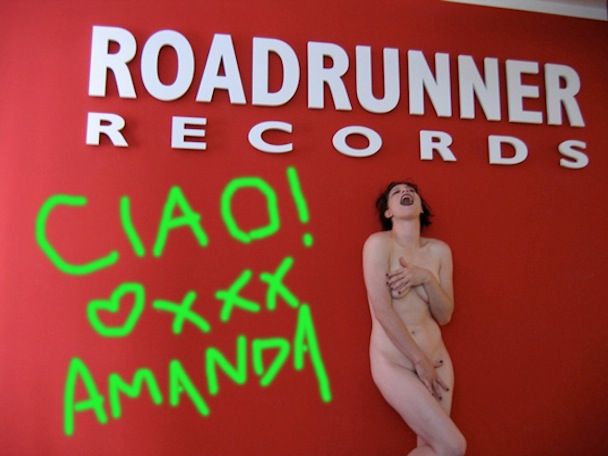 "Oasis:"
Later, Palmer released a semi-biographical song and video which follows an Oasis fan who is date raped and later has an abortion because of it. All of the media outlets had refused to play the song, citing that it made light of date rape, religion, and abortion.
She replied on her blog
, "I suggested that I might be allowed to play it if I just slowed it way down and played it in a minor key. Think about it. If they heard the same lyrics against the backdrop of a very sad and liliting [sic] piano, maybe with some tear-jerking strings thrown in for good measure, would they take issue?"
Crowdsourcing Musicians:
As I mentioned earlier, Amanda gained a lot of attention for her
Kickstarter
efforts. She originally set out to raise $100,000 to fund her new record; a new idea of asking people to pay for music instead of forcing them to. Through all the connections that Amanda had made over the years truly connecting with her fans, she hit well over the original goal and went on to raise 1.2 million dollars in one month. All donated from people who wanted to help her, as she had helped them in the past. When Amanda
posted on her blog
that she was looking for musicians that wanted to play with her on tour and be paid in beer, hugs, and high fives, musicians had a field day attacking her for not offering to compensate volunteer musicisans. She said to the
New York Times
, "If you could see the enthusiasm of these people, the argument would become invalid...They're all incredibly happy to be here." She eventually changed her mind, and paid all of the musicians. Though, her stance on crowdsourcing was later laid out in her TED talk: "
The Art of Asking
."
Glastonbury 2013:
The
Daily Mail had reported
that when performing at the festival, "her breast... escaped her bra." Amanda was ultimately outraged that they had nothing to report on her actual performance, and only cared about mentioning her wardrobe malfunction. In response, she performed a specially written song whose lyrics conclude with "Dear Daily Mail / Up yours!" Halfway through the song, she threw off her kimono and finished the performance nude.
Amanda Gaiman Palmer, Amanda Fucking Palmer, Amanda Palmer, AFP, Goddess. No matter how you refer to her, there's no denying that she pushes the envelope and consistently challenges the rules and regulations set forth by society.
For more ass-kicking awesomeness and your daily dose of feminism, check her out here:
Twitter | Blog | Facebook | YouTube | Instagram
In the words of Amanda herself, please send your comment,
especially if you think I'm wrong
!