So last week I covered some of my favorite movies, and I feel like favorite TV shows go right alongside that! I don't get a whole lot of opportunities to watch TV. Whenever I do, it's either old episodes on Netflix, or if I'm lucky... new episodes on Hulu. But I never have time in my schedule to watch TV shows as soon as they air on the actual TV. Regardless, here's a few of my favorites.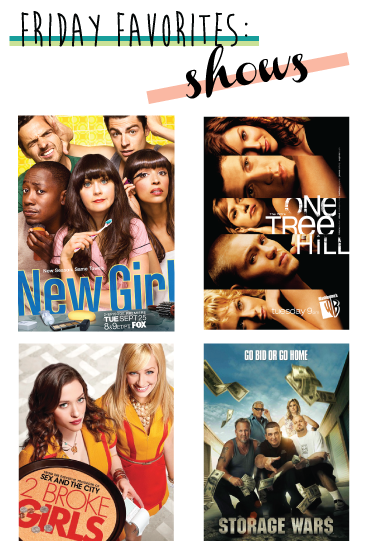 1.
New Girl
: I love Zooey Deschanel, I love Jess Day, I love the roommate chemistry, the loft, and True American. This show is real to me - I know that these personality types are all mashed up in a loft in California somewhere and I love it. This show provides endless laughs with amazing characters.
2.
One Tree Hill
: I know, it's old! But ironically I just started watching it. Actually, I did see an episode when it aired ONCE, but only because Pete Wentz and Fall Out Boy were in it. I had no idea what was going on in the show, but I knew my favorite band was there! I've developed such an emotional bond with these characters (I don't think that's healthy). I'm on season 6 now, and I'm scared because there are so few seasons left!
3.
2 Broke Girls
: Kat Dennings, yes. If you read my last
Friday Favorites
post, you'll know that Nick & Norah's Infinite Playlist is one of my favorite movies. That's where my love affair with Kat Dennings began. She's awesomely sassy, just like me! Her role as Max Black in 2 Broke Girls is perfect.
4.
Storage Wars
: Everybody has a favorite show similar to this! I love watching these people bid crazy amounts of money on a locker they can hardly see inside, and then somehow making a few thousand dollars in profit. Some of the things they find are just so awesome!
What are some of your favorite shows? Anything I should check out?