Another week, another Friday Favorites post! I've always been a huge bookworm. I've always enjoyed reading but always find myself wishing I could find more time for it. Here are just a couple of my favorite books, you can guarantee that there will be more posts like this in the future!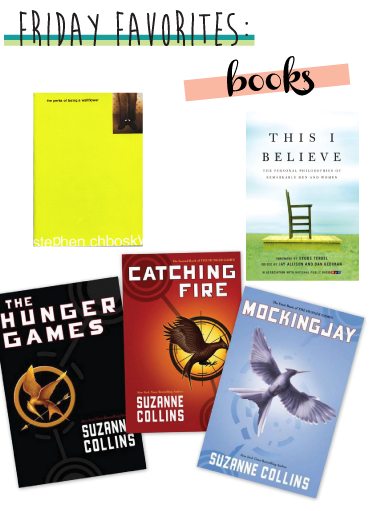 1.
The Perks of Being a Wallflower
I first read this book probably freshman year of high school. I found it to be extremely relatable. The characters were real to me and I imagined myself as many of them. I find myself rereading this book again and again. I've gone through at least 3 copies of it, underlining and highlighting my heart away.
2.
This I Believe
This I Believe is a book of essays about what people deeply believe in. Many are about a higher power, but many of them have seemingly silly beliefs such as, "always tip the pizza delivery guy." Each essay is really eye-opening and gives great perspective on life. I even used the "This I Believe..." formant to write my college essay!
3.
The Hunger Games Trilogy
I remember when I was first introduced to the Hunger Games. "I don't want to read that - it's a ripoff of Battle Royale!" I can't remember how long it took me to finally come around and give it a shot; but I'm so thankful I did. Battle Royale and the Hunger Games are both bold political statements, but the Hunger Games is so much more than that! I read this series over and over and feel the same roller coaster of emotions again and again.
Sorry the list is so short this week - my mind has been frazzled all week long.
What are some of your favorite books?